Coloring: Ruby with Splashes of White (Hypoallergenic)
Adult Size: 14-15 lbs
F1/1st Generation (Poodle and Cavalier King Charles parents) Multigenerational Champion Heritage!
Description: This sweet sweet baby boy has a love for our puppy jungle gym! Not only does he love his "humans" but he's great at entertaining himself. His beautiful splashes of white on his body add such character and charm…..goes right along with his personality! He's very smart, eager to please and has an amazing good nature. Parker, like his siblings, is super smart and will be easy to teach anything you'd like for him to learn!
Please view Parker's video and if you have any questions or would like to discuss adoption further, please feel free to call or text 865-805-2942 or email through our "Contact" page found on this website. Grace
"Parker's" Sire comes from
FAMOUS CHAMPION
Cavalier bloodlines as well as his Poodle Mother! Nothing but the
BEST
from Cavapoos R Us!
"FALL IN LOVE SALE!"
$5,850.00 $3,850.00
We do offer a Flight Nanny service as well as a driver if needed. Our puppies are all over the U.S., Canada, Mexico, Puerto Rico and Europe!!
Our Cavapoo puppy parents are carefully selected for their Champion Bloodlines which will ultimately result in puppies that are exceptionally beautiful, ones that will live longer and healthier lives and have outstanding personalities!!!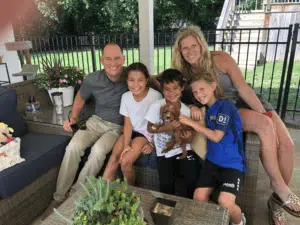 "Another grateful Covenant Family!"
What Our Adoptive Families Have To Say:
"Hi, Grace! Hope you are well. Just wanted to let you know that we are loving life with Bailey. She is amazing with the kids, so easy to train, and the most loving companion. Here is a recent picture of her. Thank you again for giving her a great start! -Deb"
If you would like more information on our current or future puppies, please call 865-805-2942 or email us today from our "Contact Us" page!
(ASK ME TODAY ABOUT OUR AVAILABLE SAFE SHIPPING)
Grace