Coloring: Ruby with Splashes of White (Hypoallergenic)
Adult Size: 10-11 lbs
F1/1st Generation (Poodle and Cavalier King Charles parents) Multigenerational Champion Heritage!
Description: This sweet baby boy has an exceptional personality. He'll make a wonderful family companion with his comical playfulness. Nelson also has a laid back nature that is very endearing to everyone that meets him. He has a beautiful and loving heart. His coat of hair is exceptional for those that suffer with allergies. Nelson is ready to love his way right into your heart! Please view Nelson's video and if you have any questions or would like to discuss adoption further, please feel free to call or text 865-805-2942 or email through our "Contact" page found on this website. All the best, Grace
"Nelson's" Sire comes from
FAMOUS CHAMPION
Cavalier bloodlines as well as his Poodle Mother! Nothing but the
BEST
from Cavapoos R Us!
"FALL IN LOVE SALE!"
$5,850.00 $3,850.00
We do offer a Flight Nanny service as well as a driver if needed. Our puppies are all over the U.S., Canada, Mexico, Puerto Rico and Europe!!
Our Cavapoo puppy parents are carefully selected for their Champion Bloodlines which will ultimately result in puppies that are exceptionally beautiful, ones that will live longer and healthier lives and have outstanding personalities!!!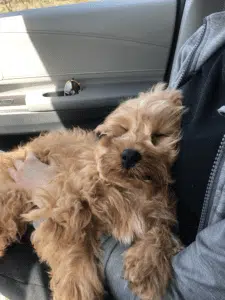 Therapy training can be hard work!
What Our Adoptive Families Have To Say:
"Can't believe Cooper is 4 tomorrow. We love him more than life. He was the best decision we ever made – he is very loved . Hope all is well with you. -Kim"
"Hi Grace! Phoebe just wanted you to see how much she's grown and show you her new head tilt for the camera! [??] I hope you're doing great and enjoying the holiday season!!! I will give her hugs for you for sure!! She really is the best puppy, and we love her like crazy! It's amazing how perfect her spunky personality is for our family, and it's already hard to imagine what life was like before her. Thank you SO much for bringing such a wonderful gift in to this world and giving her the best start possible. We're forever grateful!!"
"Hi Grace!
It's been a long time, so I thought it would be fitting to send you a new pic of Phoebe! She just had a fresh groom and is all ready for her 2nd birthday tomorrow!She is still the best little dog in the whole wide world and we are so blessed to have her! Thank you for everything; we are so grateful!I hope you and your family are doing great!!
Sincerely,
Krissy H and family"
"Hi, Grace! I wanted to show you a recent photo of our sweet boy, Buzz. It seems as though he was striking a pose! He's just the best. We love him! Hoping you and yours are happy and well. -Kim"
If you would like more information on our current or future puppies, please call 865-805-2942 or email us today from our "Contact Us" page!
(ASK ME TODAY ABOUT OUR AVAILABLE SAFE SHIPPING)
Grace