Coloring: Black/Tan with a wee bit of white. (Hypoallergenic)
Adult Size: 12-13 lbs.
F1/1st Generation (Poodle and Cavalier King Charles parents) Multigenerational Champion Heritage!
Description: This playful baby girl has a fun-loving nature but also has a propensity for hugs and snuggles!!….and a good belly rub of course! She is so joyful and fun. Please watch Darby's video to see her beautiful and well rounded personality! Your kiddo's will love her! Your family members will want to puppy sit for you and the grandchildren will ask daily to come visit!
Please view Darby's video and if you have any questions or would like to discuss adoption further, please feel free to call or text 865-805-2942 or email through our "Contact" page found on this website. All the best, Grace
"Darby's" Sire comes from
FAMOUS CHAMPION
Cavalier bloodlines as well as his Poodle Mother! Nothing but the
BEST
from Cavapoos R Us!
Our family has been BREEDERS OF EXCELLENCE for over 20 years! We do offer a Flight Nanny service as well as a driver if needed. Our puppies are all over the U.S., Canada, Mexico, Puerto Rico and Europe!!
Our Cavapoo puppy parents are carefully selected for their Champion Bloodlines which will ultimately result in puppies that are exceptionally beautiful, ones that will live longer and healthier lives and have outstanding personalities!!!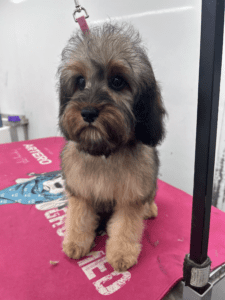 "One of our past puppies having her first spa day!"
What Our Adoptive Families Have To Say:
"Hi Grace!
It's been a long time, so I thought it would be fitting to send you a new pic of Phoebe! She just had a fresh groom and is all ready for her 2nd birthday tomorrow! She is still the best little dog in the whole wide world and we are so blessed to have her! Thank you for everything; we are so grateful!I hope you and your family are doing great!!
Sincerely,
Krissy H and family"
If you would like more information on our current or future puppies, please call 865-805-2942 or email us today from our "Contact Us" page!
(ASK ME TODAY ABOUT OUR AVAILABLE SAFE SHIPPING)
Grace